Let WeatherQuest help you understand the impact of current and potential future climate change on your business. 
The University of East Anglia (UEA) is a world leader in climate change and climate variability research and education. WeatherQuest is headquartered at UEA, and some of our team members have joint research and teaching roles at the university. So, we are well-positioned to support our customers to access and interpret the implications of a changing climate for their operations, enabling critical knowledge transfer.
WeatherQuest's Climate Services are tailored to meet each client's specific needs, wherever and whenever climate information is required to support informed decisions. WeatherQuest's team of experienced meteorologists and climate scientists use past and present climate measurement data, future climate projections, statistical analyses and computer visualisation, including Geographical Information Systems, to provide useful, usable and user-friendly information and insights.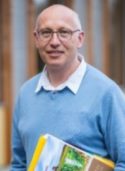 Our climate is rapidly changing, not only in average terms but also in the increased frequency of extreme events. The climate thresholds which matter will very often be unique to you in terms of locations, climate variables and historic or future periods of interest. We are looking forward to understanding your specific climate change interest or vulnerability and then working alongside you to identify ways to adapt and mitigate risk – please contact us to set up a discussion.
Sustainable
Perhaps you have a climate change question which a UEA student could tackle as part of their degree studies?