The WeatherQuest Team are involved in R&D and related innovation through Innovate-UK funded projects which we partner on and through the research which members of our team undertake in their roles at the University of East Anglia (UEA).
Having our base at UEA means we can regularly join R&D seminars led by UEA- and Visiting-Scientists, keeping us up to date on the latest weather and climate thinking.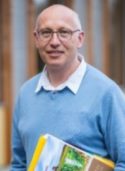 Agriculture, Horticulture and Viticulture
Partnering on the Innovate-UK project IUK 34299: "BerryPredictor: Improving harvest forecasts, yield predictions and crop productivity by monitoring and optimising zonal phytoclimates in covered strawberry production".
Partnering on the Innovate-UK project IUK 102647: "Improving consistency of yields and quality of large-scale and smallholder bean production in Kenya by precision management of soil, water and pathogens".
Co-Authoring papers, including the recent "Climate change projections for UK viticulture to 2040: a focus on improving suitability for Pinot noir" in the OENO One journal.
If you have any enquiries about our R&D
Please feel free to ask